Grace Panetta
Originally published by The 19th
On a cloudy recent Friday morning, thousands of protestors descended on the Ohio statehouse for the March for Life, many holding signs with sayings like, "Ohio is Pro-Life" and "Vote No on Issue 1."
That measure, Issue 1, would guarantee a constitutional right to an abortion and other reproductive health care.
All eyes were on Ohio, said Jeanne Mancini, president of the national anti-abortion March for Life. They were at a "cultural crossroads, she said, and Ohioians would be judged on their vote on November 7.
"In a short period of 24 hours, you could become the most pro-abortion state in our country," she said. "We are not over-sensationalized here, we are not exaggerating what's going on."
Two days later, providers and abortion rights advocates rallied in the same spot in front of the statehouse with a clear message: Ohio could not, and would not, go back to having a strict abortion ban.
"What happens if Issue 1 fails this November? We don't have to look that far back," said Dr. Jason Sayat, an OB-GYN in private practice and member of Ohio Physicians for Reproductive Rights. "We had 11 weeks last year during Ohio's extreme six-week abortion ban endanger the lives and the health of patients throughout Ohio."
"We know what the 82 days did to our state," said Jordyn Close, deputy director of the Ohio Women's Alliance and board president of the Abortion Fund of Ohio. "We know what they did to the people in this fight. The trauma that happened during those 82 days still persists."
Since the Supreme Court's ruling that overturned Roe v. Wade, abortion rights advocates are on a nationwide winning streak with state-level ballot measures. But Ohio could change that. Getting to "yes" on a ballot measure is harder than "no." And the effort in Ohio is the first to test whether voters will affirmatively enshrine abortion rights in a Republican-leaning state that twice voted for President Donald Trump — and where GOP elected officials have used the levers of state power to try to thwart the measure from passing.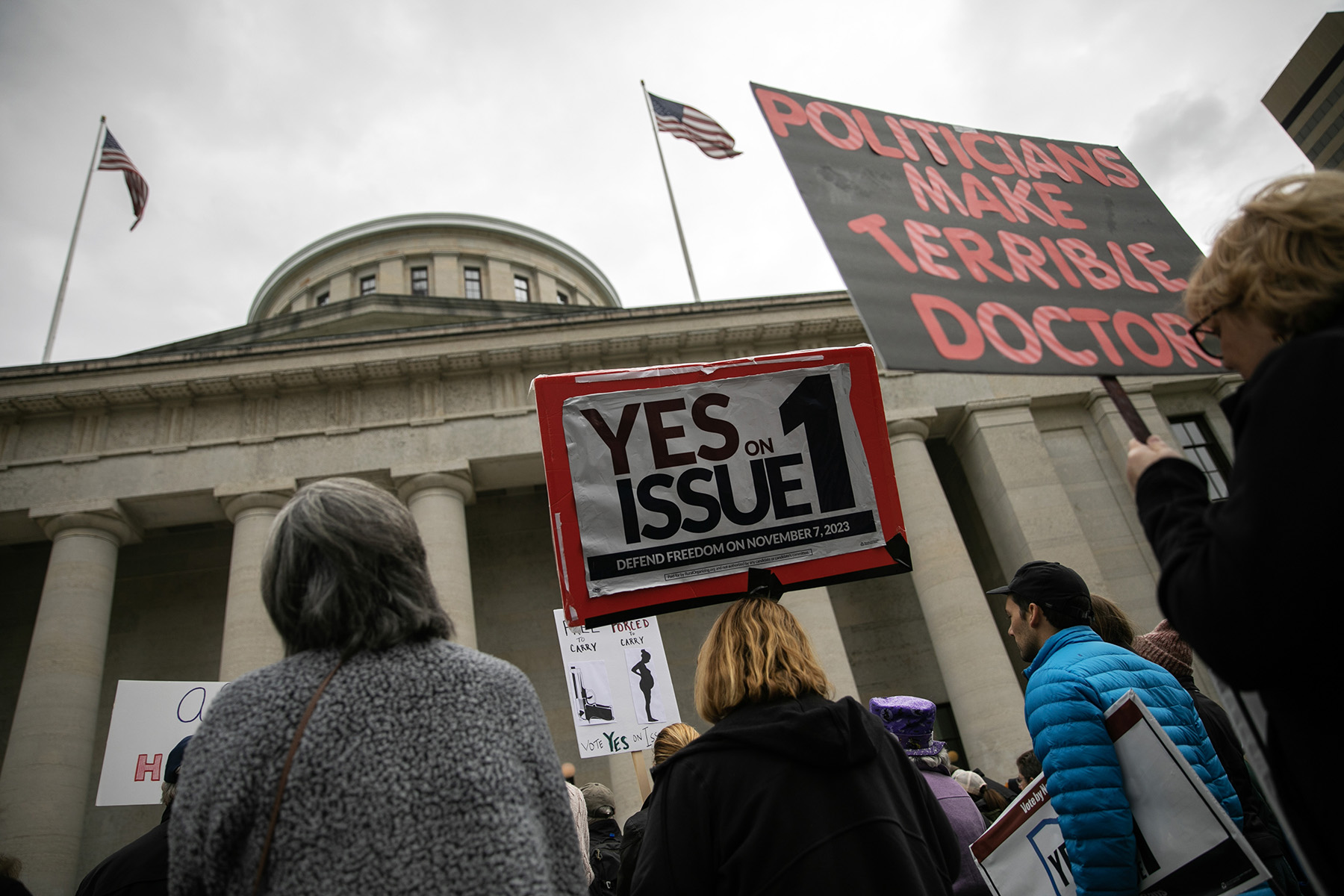 The amendment on the ballot this November, backed by a broad coalition of physicians and abortion rights groups, would guarantee an affirmative right to an abortion and contraception, miscarriage care and fertility treatment. It would allow lawmakers to restrict abortion after the point of viability, except in cases of threats to the life or the health of the patient, but require "the least restrictive means" in regulating the procedure. The amendment is modeled after a similar measure in Michigan that passed with 57 percent of the vote last November.
In 2022, abortion rights advocates' red state wins came when voters weighed in on rejecting anti-abortion measures in Kansas, Kentucky and Montana. The three pro-abortion-rights constitutional amendments passed last year were in solidly blue or Democratic-leaning states. Ohio politicians are keenly aware of this history.
"Every state that's had this ballot measure has passed. We're 0 and 6, right now, unfortunately, so I'm hoping we can defeat this," Republican state Rep. Melanie Miller told The 19th while walking along the march route Friday.
"We have to start changing people's hearts," Miller said. "We have got to show people that we love, that there's help, there's care. We have to start living our lives differently and loving people."
Ohio's abortion ban, which has no exceptions for rape or incest, was in effect for 11 weeks after the U.S. Supreme Court's June 2022 decision. A lower court blocked the law last year, allowing providers to continue providing abortions up to 22 weeks. Voters rejecting Issue 1 would leave the fate of abortion in Ohio up to the majority-Republican state Supreme Court, which heard arguments in a case challenging the ban in late September.
"There has never been a more important issue than Issue 1," Republican state Sen. Kristina Roegner, who sponsored the six-week abortion ban passed and signed into law by Gov. Mike DeWine in 2019, told the tightly packed crowd on Friday. "Millions of lives are at stake."
Republican leaders in the state want to make rejecting Issue 1 a common-sense, moderate position.
The amendment, opponents argue, would go much further than Roe v. Wade in allowing for abortions later in pregnancy. Recently released state health data shows 89 percent of abortions performed in Ohio in 2022 were before 12 weeks of pregnancy. While the amendment does not explicitly mention parental consent, opponents are also arguing the amendment could weaken Ohio's parental consent laws for abortion.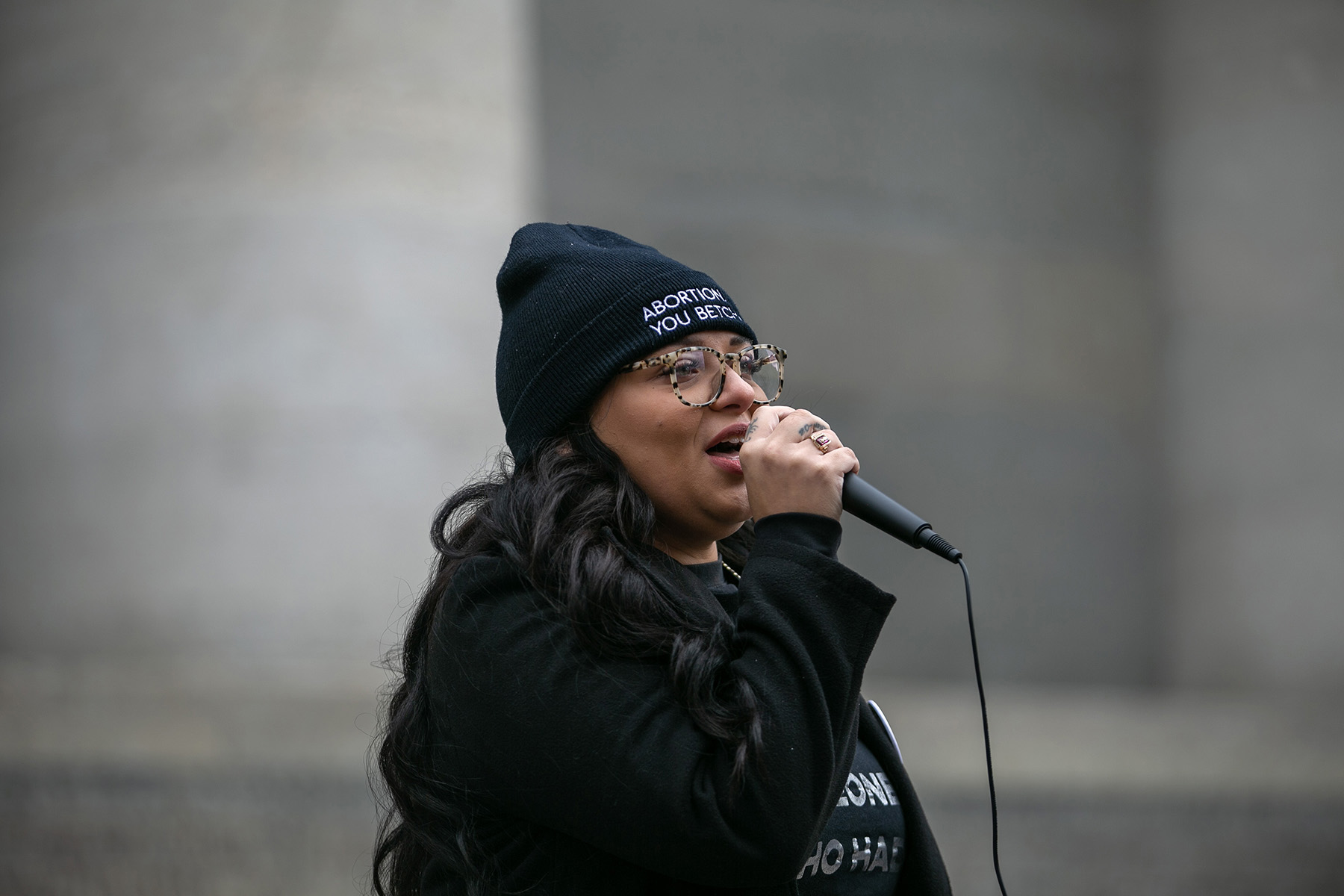 "Whether you're pro-life or pro-choice, Issue 1 just goes too far," said DeWine, the governor, at a Saturday morning get-out-the-vote kickoff at the Ohio Republican Party headquarters in downtown Columbus. Early voting begins Wednesday.
The state constitution, Attorney General Dave Yost said at the kickoff, was the "major leagues." And Issue 1 was not a "reset button" but a "radical" overreach." We need to take a deep breath and have our debate as a society," he said. "Not go jumping off a cliff with Issue 1."
DeWine then implored Yost to explain how the measure would go beyond Roe and the standard in Planned Parenthood vs. Casey, a 1992 Supreme Court decision upholding Roe, making the event's tone more constitutional law seminar than a rousing pep rally. State Sen. Matt Dolan, a 2024 U.S. Senate candidate, jokingly asked if he could receive continuing legal education credits.
"We have to shed our Republican label and go out and talk to everyday Ohioans irrespective of what party and even what position they have on this issue of abortion," Dolan said. "We have to get uncomfortable in Ohio over the next 30 days and have these uncomfortable conversations with people."
A victory for abortion rights advocates this November would also serve as a blueprint for advocates across the country who are trying to pass similar amendments guaranteeing abortion rights — and navigating territory hostile to direct democracy — in red-leaning states such as Florida and Missouri. A defeat of Issue 1 would provide a successful model for abortion opponents of the messaging and strategy that can defeat measures in other states.
"I don't know what will happen concerning how this vote in Ohio impacts things, but I do know Ohio is an important state," said Peter Range, executive director of Ohio Right to Life. "It's an important electorate, and a win here would show those other states that will have these ballot measures in the years to come, 'Hey, these battles can be won.'"
Polling from earlier this summer showed a majority of Ohio voters support a ballot measure creating a constitutional right to abortion. Earlier surveys from the Public Religion Research Institute in 2022 showed that 6 percent of Ohioans supported abortion being banned in all or most cases.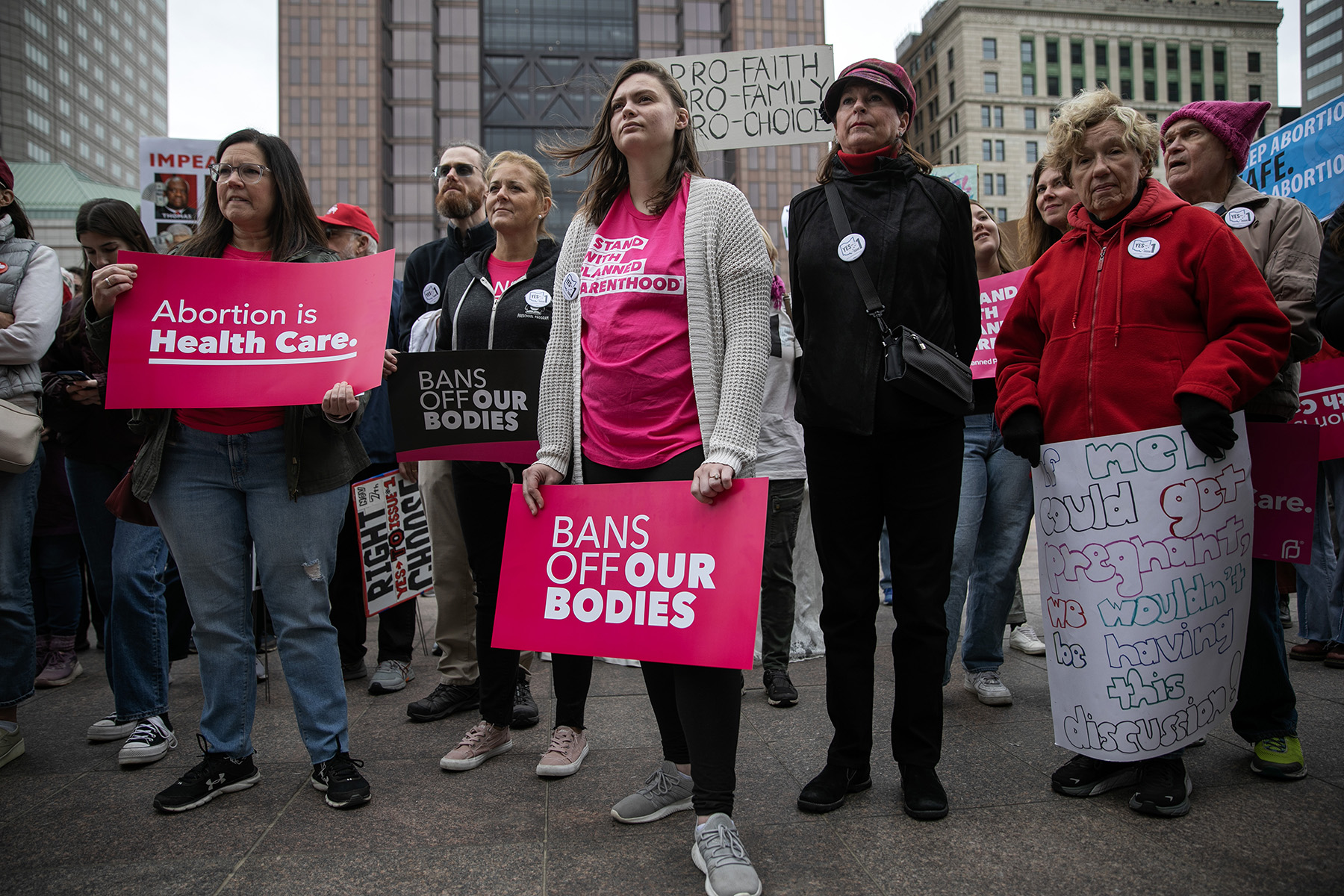 And the consequences of Ohio's six-week abortion ban still reverberate around the state and spurred Ohio doctors to launch the campaign for the ballot measure. The stories of a 10-year-old rape victim who had to travel to Indiana and couples forced to travel out of state to get care for non-viable pregnancies made national headlines. One of the couples told their story in a television ad for the pro-Issue 1 coalition.
But advocates have also faced unprecedented attempts by state officials to derail the amendment's passage.
Republicans, led by Secretary of State Frank LaRose, scheduled a special election in August on an amendment that would have made it harder to get citizen-led initiatives on the ballot and then make it harder to pass them. LaRose and others said the measure was directly aimed at the abortion vote in November — and then it was trounced by a margin of 14 points.
The August special election, which drew $35 million in outside spending, was viewed by some observers as a strategic error that cost the anti-abortion side critical time, financial resources and credibility with voters. Abortion rights advocates gained fresh insight into the electorate by organizing against the measure, and Democrats in the state gloated that LaRose, a 2024 candidate for U.S. Senate, was Ohio's "biggest loser."
Cole Wojdacz, statewide field manager for Pro-Choice Ohio, said she was "energized" by the results.
"It was invigorating," she said. "I think folks found that their voices still counted and that their vote still mattered. And I think that that's energy that we're definitely riding into November as well."
The rebuke of the August vote shows what a path to a victory for the abortion rights amendment looks like across Ohio's five regions, but doesn't necessarily forecast a victory for abortion rights, said Emily Schriver, executive director of the Matriots PAC, a nonpartisan organization focused on electing more women in Ohio. Voters preserving Ohio's citizen-led amendment process on a "constitutionalist" basis, Schriver noted, "does not necessarily translate to believing that women should have reproductive rights."Both sides framed the August election as a proxy fight over abortion. But Amy Natoce, press secretary for Protect Women Ohio, one of the leading groups opposing Issue 1, argued that democracy, not abortion, was ultimately the main motivating factor in the vote.
Both the August special election and the November vote are both called Issue 1 — and the pro and anti-abortion groups are on opposite sides than they were in August.
Alex Triantafilou, chair of the Ohio Republican Party, told The 19th that confusion played a role in the defeat of the August measure. He doesn't think the same will happen in November.
"We saw a lot of Republicans confused who voted no," he said. "I don't think we have any confusion on this. This is an extremist measure that we know hurts Ohio."
Schriver, whose organization is part of the pro-Issue 1 coalition, worries about confusion for the pro-abortion-rights side. LaRose won a different battle with the summary language for the amendment that replaces the word "fetus" with "unborn child" and omits the forms of reproductive health the amendment addresses other than abortion.
"I think that Ohioans, just like they did in August, will see through the attempt to hoodwink our people," Wojdacz said. "Ohioans are smarter than these politicians in power want to give us credit for, and I think that that's a mistake."
Much of the work of expanding abortion access and advocating to pass Issue 1 in Ohio is led by young women and women of color. Several of them gathered Sunday at the statehouse for one of multiple rallies the Ohioans United for Reproductive Rights coalition held across the state.
For them, the passage of Issue 1 would mean not just guaranteeing abortion rights, but reversing years of declining abortion access and clinic closures in the state. There are currently just six full-service clinics and three that provide medication abortion operating in the state, according to Pro-Choice Ohio.
Sierra Dobbs-Brown, administrative assistant for the Abortion Fund of Ohio, said at the rally that "the access crisis is beyond a breaking point." The fund, she said, has received 3,000 patient requests this year, up from about 1,200 in 2022.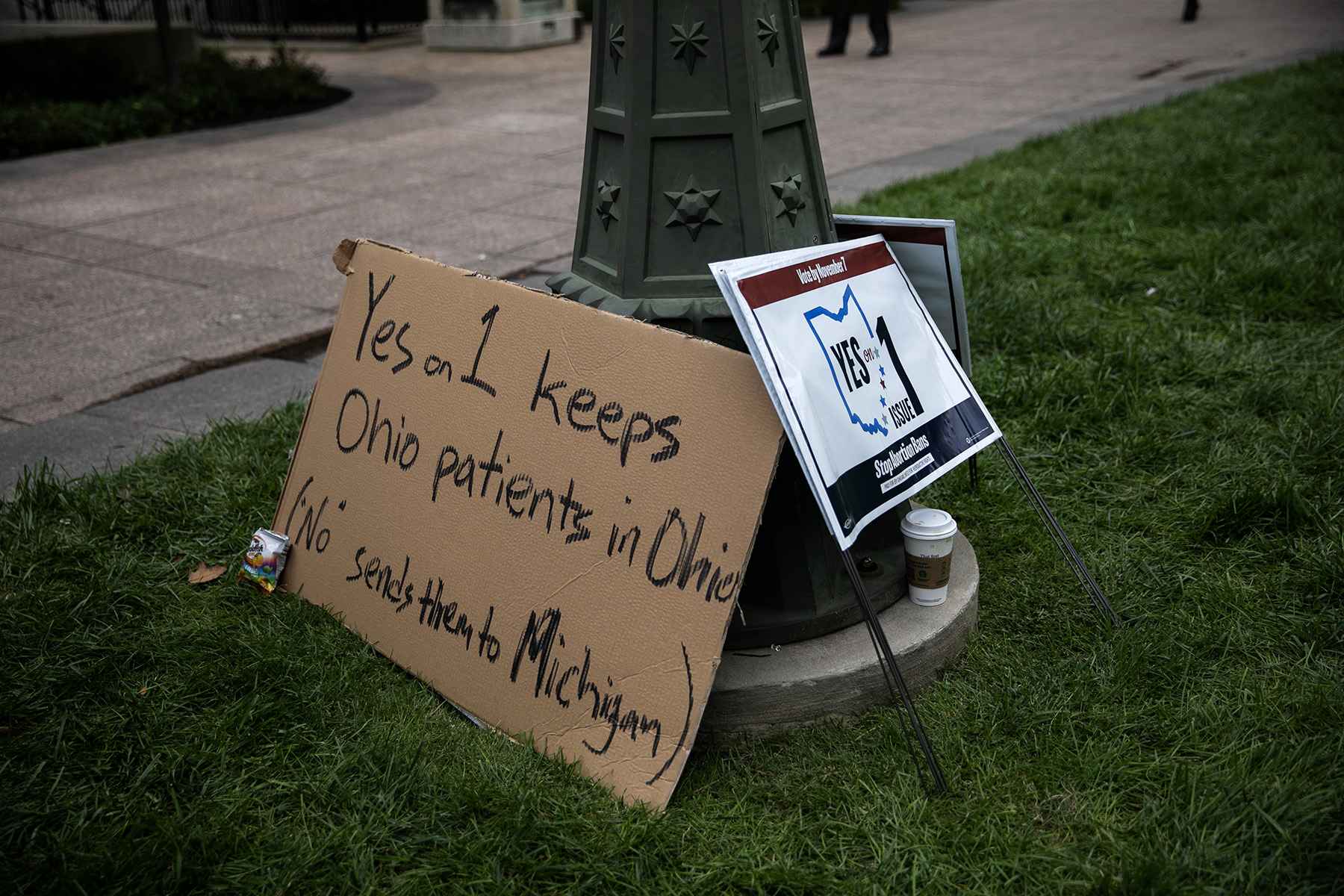 Lexis Dotson-Dufault, a 25-year-old program manager for the Abortion Fund of Ohio, said Ohio providers have seen "a huge influx" of out-of-state patients from nearby states including Indiana, Kentucky and West Virginia. She helps them navigate what can be an "inaccessible" landscape.
"When you're looking at the geographical map of where Ohio is and the states that have lost access near us and down South, Ohio is the first stop on the way to the north," she said. "We are in a sense, a haven state."
Dotson-Dufault said the passage of Issue 1 would mean people in and outside of Ohio "won't be forced into parenthood and can make the decision for themselves." She hopes it will lead to more providers opening clinics and practicing in the state, too.
"Ideally, we would have an abortion clinic in every single county," she said. "That's what I would love to see."
"Voting yes on Issue 1 not only protects abortion, it also protects every other facet of reproductive care. It gives us a baseline understanding of the bodily autonomy that Ohioans want and deserve," Close said. "I do not want to live in Ohio where I have less rights today than I had three years ago."